I loove Lanvin! Od 23. novembra oko 200 H&M prodavnica širom sveta imaće ekskluzivnu, dugoocekivanu kolekciju koju je ovoga puta dizajnirao fantastični Lanvin (Alber Elbaz)! Šteta što H&M još uvek ne postoji u našoj zemlji. Ali, Mađarska je blizu:)
It's their most anticipated collaboration yet, and Lanvin for H&M doesn't fail to deliver.
The long awaited collection by Alber Elbaz, Lavin's artistic director, for the high street giants goes on sale on November 23 in selected H&M stores nationwide, and this is definitely one collaboration worth getting out of bed early for.
Expect queues around the block for Elbaz's signature cocktail dresses, appliqué T-shirts, ladylike shoes and glamorous accessories.
Stand out items include the multitude of amazing cocktail dresses which at first glance look like they've walked straight of the Lanvin catwalk; a decorative drop evening necklace in pink or red at an unbeatable price of £29.99 and the sexy stilettos which come in either leopard print and red patent with diamanté encrusted heels, and black or floral adorned with bows. All the shoes feature Lanvin's signature ribbon ankle ties. Admirers of Lanvin's appliqué T-shirts which usually retail around the £200 mark will be delighted with the H&M version which delivers as much wow factor for only £29.99.
Prices range from £7.99 for a lipstick to £199.99 for black sateen coat with jewelled buttons and detachable fur collar. The cocktail dresses come in between £79.99-£149.99.
Elbaz hasn't left the boys out either with an equally desirable menswear collection featuring ribbon trim blazers, classic lace-up shoes in 4 colour ways, beautifully tailored shirts and coats and of course, his signature bow ties.
The collection will go on sale at 9am on November 23rd both in shore and online at h&m.com.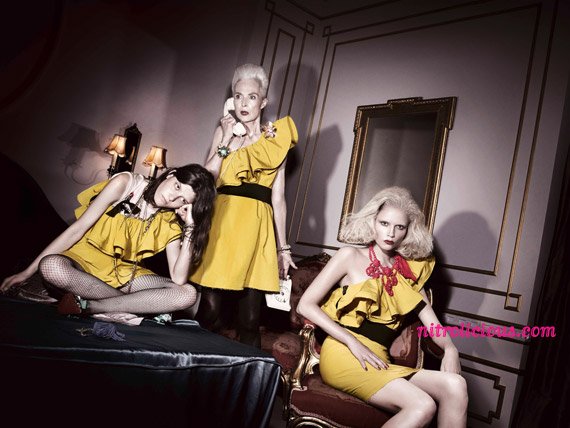 http://www.youtube.com/watch?v=MWuQcR0IoQE&feature=related Moj izbor – žuta haljina sa crnim pojasom!
xoxo
Anastasija